Minnesota Eye Consultants
Phone

1-800-EYE-TO-EYE
(1-800-393-8639)

Website

Specialties

LASIK

Locations

Bloomington, Coon Rapids, Gaylord, Maplewood, Minneapolis, Mora, New Prague, North Branch, Plymouth, Prior Lake, Sandstone, Sartell, MN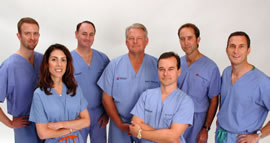 Minnesota Eye Consultants
Eye Doctors Minneapolis
We seek nothing but the best for your eyes.
Welcome to our webpage on improveyourvision.com. Minnesota Eye Consultants is the proud vision of its partners and surgeons - Drs. Richard L. Lindstrom, Thomas W. Samuelson, David R. Hardten, Elizabeth A. Davis , William J. Lipham, and Patrick J. Riedel. This consortium of the most recognized leaders in ophthalmology today is dedicated to providing superior patient care while pursuing significant research in LASIK laser vision correction, refractive surgery, cataract surgery and glaucoma treatment, oculoplastics and total eye care. Their mission: to enrich each patient's quality of life through research and innovative methods of enhancing images. If you are seeking the best eye doctors in Minneapolis this practice has the experience and dedication to help any eye care patient. Each member of our highly skilled staff has been carefully chosen and expertly trained. At our state-of-the-art facilities in Minnesota we combine world-class technology with top medical expertise to achieve the outstanding results our patients deserve. Your first step to better vision starts with a visit to meet our eye doctors and patient counselors. Please feel free call anytime!
Cataract Surgery Minnesota
Our Minnesota Eye Doctors have been focusing on cataract surgery for a very long time. Through advancements in technology, such as phacoemeulsification and premium lens implants we are able to help patients recover better and see better after cataract surgery. Over the last few years there have been some amazing advancements in lens implant technology. Minnesota Eye Consultants can actually help their patients see better after cataract surgery at near, far and intermediate distances. Some of the new lens implants for cataract surgery are the Restor Lens, which is a multifocal IOL lens, The Crystalens, which is an accommodating lens implant, and the Rezoom Multifocal IOL lens.
Our patients receive personalized attention from trained professionals who understand your surgical eye care needs. Benefits of our outpatient surgical center include:
No hospitalization
Short recovery time
Medicare accepted *excludes certain premium IOls
Primary insurance claims filed
Continuation of care
For more information regarding cataract surgery, lifestyle lenses, multifocal IOL, accommodating IOL or premium lens implants please visit our cataract center on this website. This website is designed specifically as a patient education resource to only inform the public that these options exist. These Minnesota eye doctors are dedicated to great efforts in patient education.
LASIK Minnesota
If you are seeking a LASIK surgeon in Minnesota we hope that you find our website informational and pertinent to your research process. Understanding LASIK can often be difficult and that is precisely why we have developed a LASIK section that aims to answer any possible questions and concerns you may have. Of course there is nothing better than speaking directly with our doctors and staff. The LASIK information below will be a great start to understanding LASIK or you other vision correction options.
LASIK eye surgery
LASIK actually stands for Laser in-situ keratomileusis, and is the most commonly performed type of laser eye surgery available today. The LASIK procedure is quick, effective and has a very small amount of potential side effects, making this a premium vision correction option. LASIK is a great option for many individuals considering laser vision correction for a variety of very personal and professional reasons. LASIK may not promise perfect vision, however; it is a highly successful procedure that can at the very least reduce a personâ?,??"?s dependence on glasses or contact lenses. The lifestyle benefits can be tremendous for active and social people. These benefits can enable people to more freely pursue their hobbies, sports activities or career options. At Minnesota Eye Consultants we have various options for LASIK surgery involving custom options and even blade-free LASIK. Be sure to ask about our state of the art LASIK equipment. For more information visit our robust LASIK center on this website.
Our Eye Doctors
Richard L. Lindstrom, M.D.
Thomas W. Samuelson, M.D.
David R. Hardten, M.D.
Elizabeth A. Davis, M.D.
William J. Lipham, M.D.
Patrick J. Riedel, M.D.